Oasi Zegna, May toJune 2018: Rhododendrons in bloom. In the month of the bloomings, the Zegna Oasis opens to visitors with floral itineraries and a special gastronomic review with fabulous proposals, to be tasted at the local refreshment points.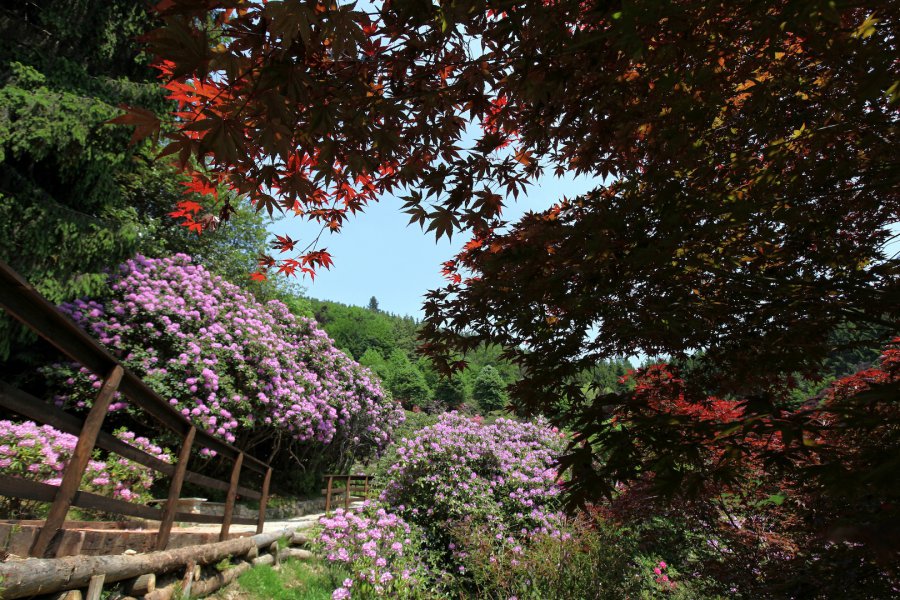 The meeting point for "plunging" in a sea of ??flowers is the Centro Zegna in Trivero (to the map: https://goo.gl/PCVjQm) Dates:
May 19-20
May 26-27,
June 2-3.
Schedules: Saturday, 2.30pm and 5.00pm; Sunday 10:30 am and 2:30 pm
We highly recommend to dress comfortable or trekking equipment and to book the guided tour in advance: Ph. +39 015 7591460 / mail: info@oasizegna.com / web: http://www.oasizegna.com/it/luoghi/trivero_8.html.
Ideal as a spring trip with your children. There is also an itinerary accessible to disabled.
A party of colors – La Conca of Rhododendrons, inside the Zegna Oasis, offers an explosion of colors, red, pink, white and violet … a feast for the eyes and a mantle of perfumes that accompany visitors along the different paths to discover gardens, flowers, ornamental plants and with the possibility to stop among rhododendrons in bloom for delicious picnics, drawing from baskets prepared with local products.
Between mid-May and the end of June we can witness the true triumph of spring in the Zegna oasis, mountain area of ??Piedmont, in the province of Biella: the flowering of hundreds of Dutch rhododendrons that create a spectacular scenery along the first hairpin bends Overview Zegna, between Trivero and Bocchetta di Caulera.
Trivero, panoramic access to the highlands – Trivero is plunged in a wonderful landscape at an altitude of 800 meters, surrounded by firs, beeches, oaks and ash trees. There is the Centro Zegna, from which a scenic road starts, begun in 1938 on the initiative of Ermenegildo Zegna to allow access to the high lands, with panoramic points and paths that branch into the Valsessera.
Web: http://www.oasizegna.com/it/eventi/rododendri-fiore-grandi-giardini-italiani_3393.html